Learn tips and time-management skills to keep you on track when taking in-person courses on campus. 
What to expect 
For an in-person class, you can expect your instructor to use CarmenCanvas as a hub for your syllabus, class announcements, course materials, and grades. Most or all teaching will take place in the classroom through a range of teaching methods.  
For a 3-credit hour semester course, you should expect to spend around three hours in class each week and an average of six hours preparing for class (this may include readings, homework, or other assigned activities).  
Quick tips 
Keep track of your schedule and classroom locations on the go with the Ohio State app. 
Notifications are distracting, especially during class. Consider using Do Not Disturb while you're in class to mute notifications so that you don't get interrupted. You can also update your notification settings for specific apps to limit distractions. 

Whether you're taking notes as you follow along or contributing ideas during class discussions, it's important to stay engaged. Consider using Notability or OneNote to make notes on your iPad or computer.  
Time blocking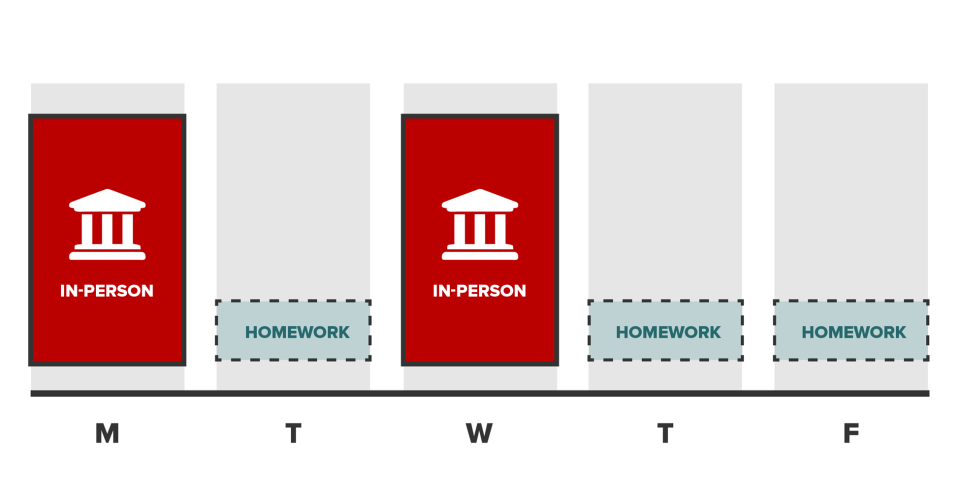 Time blocking is a proven method to help you focus and accomplish the things you need to achieve in a set amount of time. 
As an example, for a single 3-credit hour in-person course, you could block off approximately two hours on each day you do not go to class to work on homework and projects or to prepare for upcoming class sessions. 
Make sure to take travel time to and from campus into consideration as well. To save time between classes, you may use a designated drop-in study space on campus to work on homework or even take an online class. Know what you want to accomplish during your time between classes to keep yourself on task.
Sample daily schedule of a student taking in-person courses 
| | |
| --- | --- |
| TIME  | ACTIVITY  |
| 7:00 a.m.  | Wake up and get out of bed  |
| 7:15 a.m.  | Take some time for self-care (stretch, meditate, or drink a big glass of water)  |
| 7:30 a.m.  | Eat breakfast and engage brain   |
| 8:00 a.m.  | Travel to campus   |
| 9:00 a.m.  | First class of the day   |
| 10:00 a.m.  | Head to a drop-in space to study and work on assignments during a break  |
| 11:00 a.m.  | Travel to next class   |
| 11:15 a.m.  | Second class of the day   |
| 12:30 p.m.  | Eat lunch   |
| 1:30 p.m.  | Head to a drop-in space to study and work on assignments  |
| 3:15 p.m.  | Travel to next class   |
| 3:30 p.m.  | Third class of the day   |
| 4:30 p.m.  | Travel home   |
| 5:30 p.m.  | Get exercise for at least 30 minutes at an on-campus recreation facility or by exercising off-campus (try setting an exercise goal in the Wellness app)  |
| 6:30 p.m.  | Eat dinner   |
| 7:00 p.m.  | Review notes from the day's classes and tie up loose ends before tomorrow's classes   |
| 8:00 p.m.  | Meet with club or socialize with friends   |
| 9:30 p.m.  | Take some personal time to rejuvenate—read, watch TV, or play video games (this might be a good time to unplug and practice healthy tech habits)  |
| 10:30 p.m.  | Get ready for bed and read for fun or listen to a calming podcast  |
| 11:00 p.m.  | Go to bed in order to get 8 hours of sleep  |