There are some situations when you may need someone to share meetings and recordings with, or on behalf of, someone else. Zoom does not allow more than one person to "own" a meeting or webinar. There are a couple of partial solutions.
Alternate Host
Scheduling Privilege
Alternative Host
The Alternate Host option gives someone else the ability to start a meeting on your behalf. You can, if you wish, take it a step further and give someone Scheduling Privilege for your account.
Scheduling Privilege
If you give someone Scheduling on Behalf of privileges to your account, they:
Can manage settings for meetings you have created
Can create new meetings for you
They automatically become an alternative host for your meetings
Once you have given someone permission to schedule on your behalf, they can go into the Meetings area in the web portal.
There will be an additional drop-down menu, Show meetings by host, that will allow them to choose to see their own meetings or your meetings.
When looking at your meetings, they have full ability to edit any necessary settings.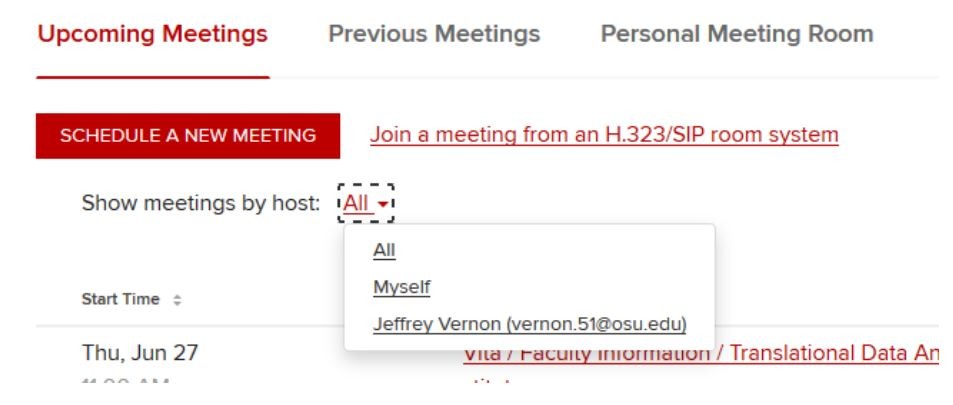 Recordings
The system will send a notification to a meeting host when a cloud recording is available; by default, this notification is also sent to the person who scheduled the meeting for the host.
This doesn't actually give access to the recording to anyone other than the owner, but it does allow someone else to share the link in the owner's absence.
You can edit your notification preference in your own account at Settings > Meeting > Email Notification > When a cloud recording is available.