The Discussions tool is a collaboration area to post, read and reply to messages on different topics, share thoughts about course materials, ask questions, share files, or work with your peers on assignments and homework. Instructors can also set up a graded discussion assignment.
Use the Discussions tool in your course to:
Encourage users to share thoughts on course material with their peers.
Set up forums for users to ask questions.
Post questions for the class to debate.
Discuss the answers to an assignment.
By default, Canvas allows students to:
You can change these settings in two ways: from within the Discussions settings or in the Course settings. You can also allow students the ability to attach files to a discussion.
Access Discussions
Log in to Carmen. 

Enter the desired course. 

Click Discussions. 

Click Add Discussion. 
Image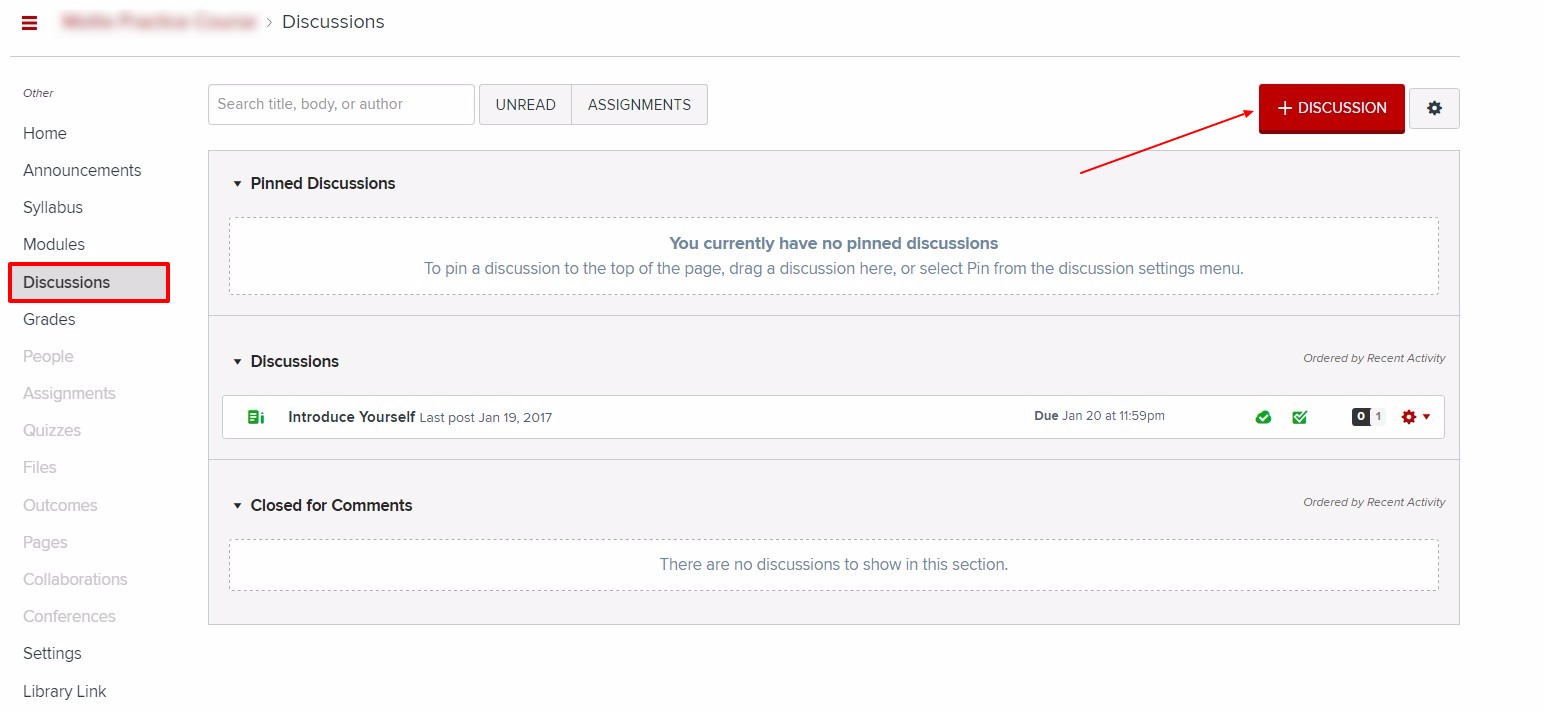 See Organizing Discussions below for more information about Discussion settings.
Organizing Discussions
These are current discussions within the course. Discussions can remain open indefinitely, or you can specify a date range (as designated by the available from/until date). Discussions are automatically arranged with the most recently active topics toward the top.
When you create a discussion you have several options to consider:
Image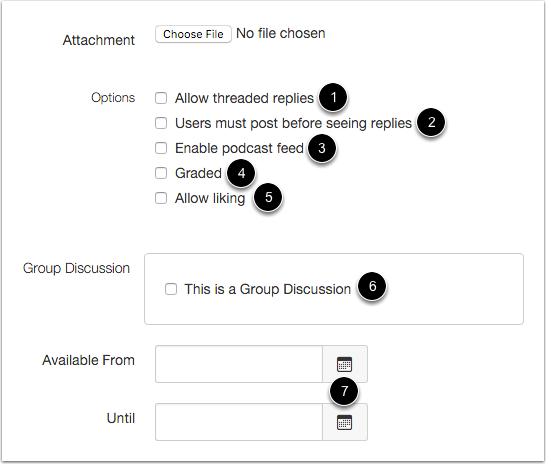 By default, discussions are created as focused discussions.
To create a threaded discussion, click the Allow threaded replies checkbox. Learn more about focused and threaded discussions.
Allow threaded replies means students can post onto others' postings rather than every post being a new thread. If you do not enable threaded discussion, students can only respond to each other's postings as side comments with only two layers of "nesting."
Click the Users must post before seeing replies checkbox to require users to reply to the discussion before they can see any other replies. 
To enable a discussion podcast feed, click the Enable podcast feed checkbox.
Click the Graded checkbox to create a graded discussion.
​​​​You can assign graded discussions to individual students, course sections, or course groups. Once a graded discussion is published it creates a column in the gradebook. Graded discussions have an additional set of options that include assigning point values, adding the discussion to an assignment group, enabling peer review, and assigning varied due dates for different students or sections within your course. 
Click the Allow liking checkbox to allow students to like discussion replies.
Click the This is a Group Discussion checkbox to designate the discussion as a group discussion,
You will want to check This is a Group Discussion only if you want to limit it to specifically created subgroups of the course. These subgroups need to be established first. If the whole class is to engage in the discussion, then you do not check this box.
To make your discussion available on a specific date or during a specific date range, enter the dates in the Available From and Until fields, or click the calendar icons to select dates. Note that these fields only apply for non-graded discussions; If you create a graded discussion, these date fields do not apply. If left blank, students will have access for the entire course.
Pinned Discussions
Pinned discussions are those that you want your students to see at the top of their page. You can arrange pinned discussions in any order. Students will only see this section heading if there are discussions within this section.
Pinned discussions could include short-run discussions, discussions that only run for a single week, and any other discussions that students should specifically pay attention to.
Closed for Comments
These discussions have been manually closed for comments or the discussion is past the available from/until date. These are discussions that are available in a read-only state.
Closed for comments discussions are also ordered by most recent activity. Students will always see this section heading, even if there are no discussions within this section.
To learn more about each of these discussion types see How do I use the Discussions Index Page?
See the Canvas Instructor Guide for more information about discussions.