Learn tips and time-management skills to keep you on track when taking courses fully or mostly online. 
What to expect 
For a distance-learning course, you can expect all of the instruction, assignments, and exams to be online. There will be no in-person requirements as part of the course, and you will not see a location on your class schedule. 
Some distance-learning courses are completely asynchronous, meaning you will have no scheduled live class sessions and are responsible for completing coursework—most often in CarmenCanvas—by assigned due dates. Other distance-learning courses may have a synchronous requirement for a live virtual meeting—likely in CarmenZoom—one or more times a week. 
For a 3-credit hour semester course, you should expect to engage with about three hours of instructional content per week, such as videos, Carmen discussions, or other online activities. Additionally, you should spend an average of six hours preparing for class (this may include readings, homework, or other assigned activities). 
Quick tips 
Schedule time to complete asynchronous coursework like required readings, pre-recorded lecture videos, and assignments. Access coursework in Carmen and use Microsoft Planner to help you prioritize and plan when you'll complete these activities.  

Give your brain a break when in the middle of long work sessions. Create art or music with tools such as Adobe Fresco and GarageBand. Use the timer on your phone or iPad to remind yourself to get back to work. 

Remember to customize your Carmen notification settings. You can choose which course activities will trigger an email or push notification on your mobile devices. 
Time blocking 
Time blocking is a proven method to help you focus and accomplish the things you need to achieve in a set amount of time. 
For distance-learning courses, you will want to build your schedule around any live synchronous sessions or virtual appointments with your instructors. After you have blocked time off for scheduled Zoom sessions, schedule the rest of your asynchronous classwork, homework, and projects around them.   
As an example, for a single 3-credit hour distance-learning course that meets synchronously, you could plan to do your homework on non-class days. For a class that primarily requires asynchronous work in Carmen, block time to complete online modules before moving on to any homework or projects associated with that class. You should plan for approximately three hours of instructional activity or class interactions, and approximately six hours of homework and preparation per week.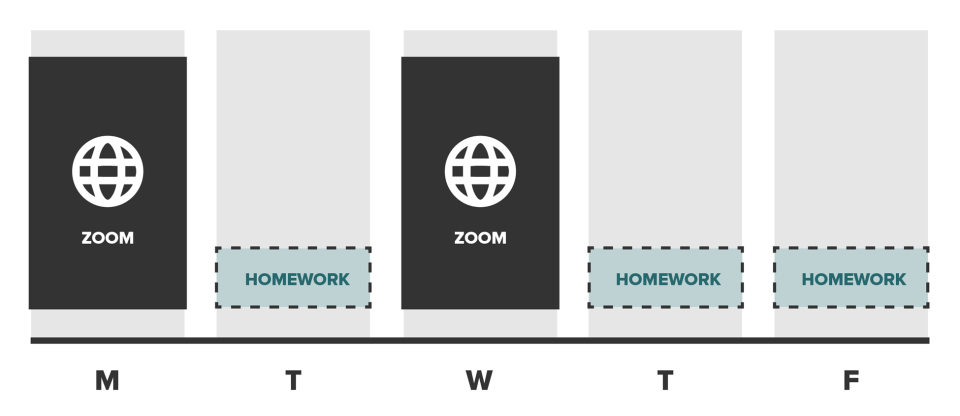 Example #1 of how your time may be allocated for a distance-learning course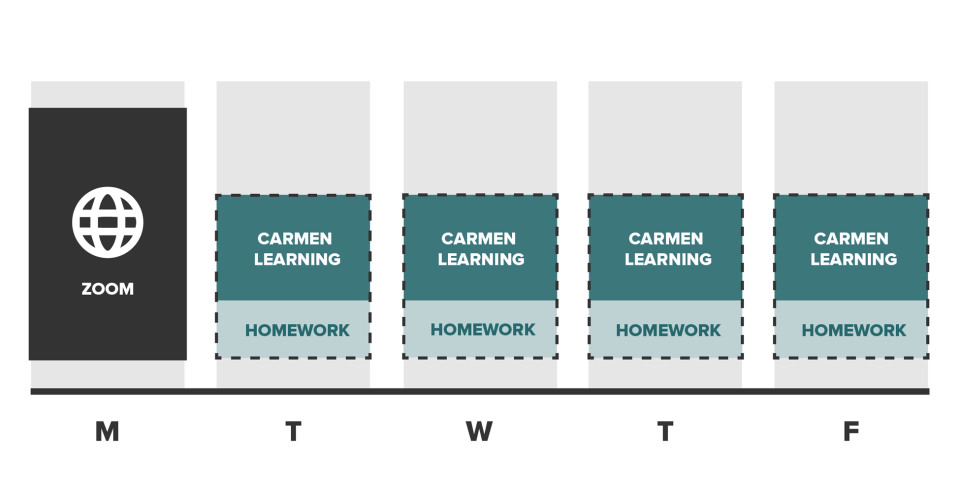 Example #2 of how your time may be allocated for a distance-learning course 
Sample daily schedule of a student taking online courses
| | |
| --- | --- |
| TIME  | ACTIVITY  |
| 7:00 a.m.  | Wake up and get out of bed  |
| 7:15 a.m.  | Take some time for self-care (stretch, meditate, or drink a big glass of water)  |
| 7:30 a.m.  | Eat breakfast and engage brain   |
| 8:00 a.m.  | First class of the day  |
| 9:00 a.m.  | Study and work on assignments in a distraction-free workspace  |
| 11:00 a.m.  | Get exercise for at least 30 minutes at an on-campus recreation facility or by exercising off-campus (try setting an exercise goal in the Wellness app)  |
| 12:30 p.m.  | Lunch   |
| 1:30 p.m.  | Take a 30-minute power nap to boost afternoon productivity  |
| 2:30 p.m.  | Study and work on assignments  |
| 3:30 p.m.  | Second class of the day   |
| 4:30 p.m.  | Study and work on assignments  |
| 6:00 p.m.  | Eat dinner   |
| 7:00 p.m.  | Review notes from the day's classes and tie up loose ends before tomorrow's classes  |
| 8:00 p.m.  | Meet with club or socialize with friends   |
| 9:30 p.m.  | Take some personal time to rejuvenate—read, watch TV, or play video games (this might be a good time to unplug and practice healthy tech habits)  |
| 10:30 p.m.  | Get ready for bed and read for fun or listen to a calming podcast  |
| 11:00 p.m.  | Go to bed in order to get 8 hours of sleep  |