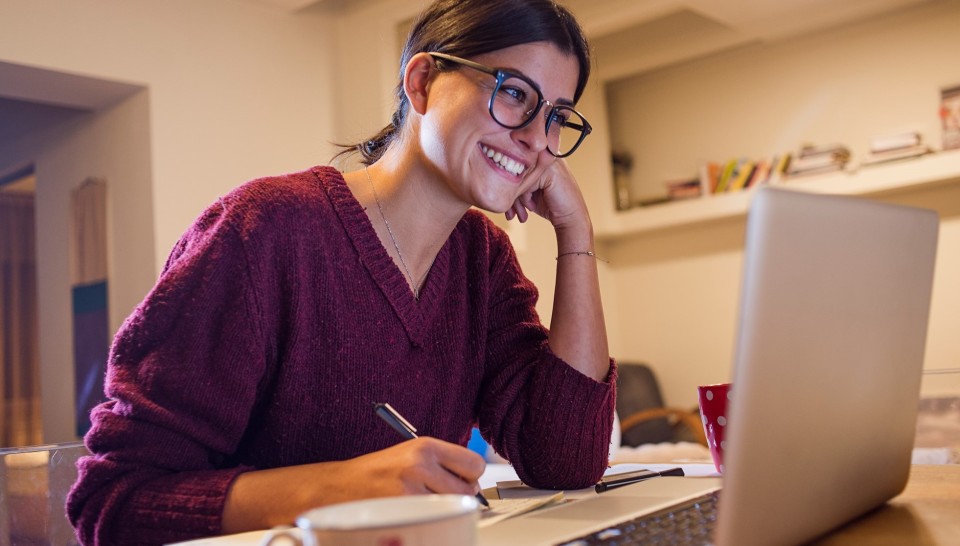 If you're teaching online for the first time or looking to hone your skills, you might ask yourself: What's different about teaching online? 
Online classes have the same rigor and expectations for students' time and effort, and the same week-by-week teaching pace and regular interaction with students. You use many of the same evidence-based teaching strategies and frameworks, such as backward design, that you use in a physical classroom. 
On the other hand, online classes often require additional time to design and build before they're taught, have different needs for communicating expectations and instructions, and introduce different ways of thinking about and estimating credit hours and seat time. You'll also need to use specific assignment approaches and teaching strategies proven to work well online. 
Teaching effective online courses involves special considerations related to the course's format and administrative components, the technology you use (particularly CarmenCanvas), and your choice of appropriate teaching methods. 
Get started with this  printable checklist of effective practices for online teaching, and refer back to it every time you teach online. Each item on the checklist is explained below.  
Format, Rigor, and Integrity 
How can you ensure the quality and rigor of your course is equivalent to an in-person course? This section covers university policies and expectations for online courses, such as accreditation standards, attendance tracking for federal financial aid, and academic integrity considerations.  
Format and Pacing
Academic Integrity

Academic integrity is a student's commitment to abide by Ohio State's code of academic conduct. It involves moral and ethical academic behavior, including adherence to course guidelines and avoidance of plagiarism or cheating. Online learning presents unique challenges to academic integrity since misconduct can arise from a lack of awareness or understanding due to unclear expectations and instructions.  

How can you promote an environment of academic integrity in your online course?

The course syllabus includes policies about academic integrity that are specific to online learning.
Including this information—and discussing it openly with students—will help them understand your course's academic integrity expectations and guidelines for online courses at the university in general. Consider using the Online and Hybrid Course Syllabus Template, which includes online-specific language regarding academic integrity.
Major assignments include specific academic integrity parameters in the directions.
For example, students need to know if they are allowed to work in groups, use past work, use notes or the book for a quiz or exam, and so on.
Course technologies, such as online proctoring or plagiarism detectors, or other strategies are in place to deter cheating.
These tools help you monitor whether specific academic integrity criteria are met when students turn in assignments or take quizzes, midterms, or final exams. Learn more about Proctorio and Turnitin, an anti-plagiarism tool that integrates with Carmen.

Learn more in Strategies and Tools for Academic Integrity in Online Environments and A Positive Approach to Academic Integrity.
Technology and Materials 
Students perform best in courses that are clear, navigable, welcoming, functional, and accessible. The structure you set up for your course using CarmenCanvas and other instructional technologies is central to creating a supportive online learning environment. 
Follow these guidelines to ensure students can successfully access and navigate your materials, Carmen course, and chosen technologies.
Course Materials

 For both ethical and legal reasons, all materials in your course must be accessible and meet copyright and fair use requirements.

The documents, instructions, and materials in the course are in formats that are accessible for all students.
When materials are "accessible," they can be used and navigated by students with vision, auditory, motor, or cognitive disabilities. Providing accessible materials gives all students the ability to access course content at the same time. It is easier to create your materials with accessibility in mind than to retroactively make them accessible—follow accessibility best practices from the get-go when building your course. Learn more about Digital Accessibility Services.
Copyrighted materials are either provided to students securely through the library or a detailed fair use claim has been documented.
Teaching online necessitates additional considerations around copyright law. If you show students a PowerPoint presentation or video clip in a face-to-face class, you aren't giving them access to the material forever. But in an online environment, the works you share are easier for students to copy or distribute. Be sure to follow best practices when using licensed library materials and copyright exceptions, such as the TEACH Act or fair use. Learn more about Copyright Services at the University Libraries.
Carmen Course

An organized and transparent Carmen course helps students navigate your content and learning activities with ease.

Content and activities are organized into weekly modules or another clear navigation structure. 
Using Modules to house your content in Carmen provides a clear organization and structure, so students know how your course will run. The way you sequence your modules can show the "big picture" of your course, clarify the relationships between topics, and create a logical flow. 
Clear, consistent directions are included in Carmen about what students are expected to do with all materials and activities. 
Providing transparent instructions for new materials, assignments, and learning activities helps students contextualize them with your course content and goals.
The course is built with an online-learning-specific Carmen course template. 
Using a consistent template for your course helps students easily navigate content and concentrate on learning rather than searching for files and directions. It also makes your course-building process more efficient and streamlined. Download the Carmen Course Template.

Learn more about Carmen Common Sense: Best Practices.
Other Required Technology

It's easy to assume your online students are digital natives, but in fact, they come to your course with a range of technological experiences and skills. Students will benefit from guidance on the technology they need to access course materials and complete activities.

The course syllabus lists all required technology, with instructions for how to access technical support for those technologies.
Provide explicit instructions on how students can get technical support for tools used in your course, especially if they cannot get that assistance from the Ohio State IT Service Desk.
The course syllabus includes accessibility, data privacy, and cost information for any non–Ohio State technologies. 
Share information on how students can get accessibility accommodations if required, how their data is used and stored, and any fees or costs beyond the cost of required textbook(s). 
Teaching Strategies 
As with any class, you should employ evidence-based approaches to design and deliver your online course. Research repeatedly shows that four areas significantly impact online students' learning, engagement, and satisfaction: instructor presence, student-student interaction, a variety of teaching methods, and student support and metacognition. 
Several teaching methods are suggested below, but the list is not comprehensive. Successful courses need not employ all of these strategies and may incorporate additional approaches. 
Instructor Presence 

We know that students are more engaged when they perceive their instructor as a frequent and positive presence in the course. Some strategies for accomplishing this in your course include:

Regular and planned instructor communications with the class via announcements or weekly check-ins
Instructional content, such as video, audio, or interactive lessons, that is visibly created or mediated by the instructor
Regular instructor participation in class discussion, either in Carmen Discussions or synchronous sessions
Regular opportunities for students to receive personal instructor feedback on assignments 

Learn more about Online Instructor Presence.
Student-Student Interaction

Students also engage more in courses when they have opportunities to interact with their peers and feel they are part of a community of learners. To foster peer connection in your course, it is important to provide:

Opportunities for students to interact academically with classmates through regular class discussion or group assignments
Opportunities for students to interact socially with classmates, such as through video conference sessions or a course Q&A forum 

Learn more about Student Interaction Online. 
Variety of Teaching Methods

Students understand and engage with your course material in a variety of ways. Overall, student success is maximized when you provide frequent and varied learning activities. You can accomplish this by including:

Opportunities for students to receive course information through a variety of different sources, including indirect sources, such as textbooks and lectures, and direct sources, such as scholarly resources and field observation
A variety of activity and assignment formats to provide students with multiple means of demonstrating learning
Opportunities for students to apply course knowledge and skills to authentic, real-world tasks in assignments
Student Support, Resources, and Metacognition

Students have successful, meaningful experiences when they understand how the components of a course connect, receive guidance on how to study, and are encouraged to take ownership of their learning. Consider including the following to support students in your course:

Instructor explanations about the learning goals and overall design or organization of the course
Context or rationale to explain the purpose and relevance of major tasks and assignments
Guidance or resources for ancillary skills necessary to complete assignments, such as conducting library research or using technology tools
Opportunities for students to take ownership or leadership in their learning, such as by choosing topics of interest for an assignment or leading a group discussion or meeting
Opportunities for students to reflect on their learning process, including their goals, study strategies, and progress
Opportunities for students to provide feedback on the course

Learn more about Supporting Student Learning and Metacognition.