In fall of 2017, feedback was gathered from Ohio State students  about their experiences with Ohio State's learning management system CarmenCanvas. In focus groups, students shared what was most important to them in a Carmen course and what instructors can do to support their learning.

Overwhelmingly, students said consistency is key. It's important that all their classes have a corresponding Carmen course and that all necessary information to succeed in each class—syllabus, assignments, grades, and so on—is easily located within Carmen.
Every class offered at Ohio State can have a Carmen course, and most instructors take advantage of that. For example, in autumn 2019, more than 90% of classes with more than 16 students had a Carmen course. For large enrollment courses—those with 400 or more students, 100% of classes had a Carmen course. But use of Carmen does not equate effective use. Indeed, bad Carmen habits can be a barrier to student success.
If you're looking to improve the student experience of your course, start with Carmen Common Sense, a student-authored list of ten simple suggestions for effective Carmen use.
Background
Undergraduate Student Government (USG) launched the Carmen Common Sense initiative in May 2019, alongside partners at University Senate's Council on Distance Education, Libraries and Information Technology (DELIT). The students' aim was to set the bar for instructors to develop more consistent and student-friendly courses. The criteria they landed on were informed, in part, by a survey of more than 200 students.
Students representatives from USG have since collaborated with other units, including the Michael V. Drake Institute for Teaching and Learning and the Office of Technology and Digital Innovation (OTDI), to refine the Common Sense into ten practical guidelines for instructors and to explain the reasoning for each tip.
Read each student-authored Carmen Common Sense guideline below. Keep in mind that the goal of these guidelines is to provide students a consistent, predictable experience with Carmen, no matter who is teaching the class or in what modality it is being taught. 
#1  Upload course syllabus to the Syllabus tab and provide it as a downloadable file.

Easy access to course policies makes navigating courses much easier. Instead of scrambling for upcoming assignments, students will have access to a comprehensive resource in a reliable location that provides them with answers to many of the questions they might have regarding their class responsibilities.
#2  Upload assignments to the Assignments tab with instructions and clear due dates.

Uploading assignments to Carmen allows students 24/7 access to their schoolwork and gives them the opportunity to be proactive with their class responsibilities. Additionally, providing clear due dates on the assignments makes it easy for students to keep track of their work outside of the classroom. As an added benefit, when due dates are uploaded, the assignments are automatically loaded into the Carmen calendar which helps students keep track of their assignments on a weekly and monthly basis.
#3  Enter grades into the Grades tab when grading is complete.

Providing grades for students online reduces anxiety and increases classroom transparency. It also allows students to gauge their performance within a class and adjust their habits accordingly."
#4  Use a consistent mode of communication and mention it in class.

Using a consistent form of communication (e.g., emails, announcements) makes it easier for students to know exactly where to look when questions arise. Students are not notified regarding Announcements in Carmen unless email notifications are activated and functioning. Even then, many email notifications will be filtered as spam. It is important to let students know which form of communication will be used so that they can make the necessary adjustments."
#5  Organize course materials into modules according to content matter.

Modules make it easy for students to follow along with course material. This organization will increase students' ability to access and utilize necessary course files and decrease the chance that assignments get lost amongst other files.
#6  Remove unused sidebar tabs.

An overabundance of pages within a course on Carmen may lead to unnecessary confusion for students. Simple removal of unused pages from the course navigation can help students find files quickly with less stress.
#7  Organize homepage with instructor contact information.

Instructor contact information is universally required by students. An organized home page with this essential information makes it easy for students to initiate conversations with their instructors and increases classroom transparency.
#8  Utilize clear and consistent naming conventions for assignments and files.

Students are often confused by file and assignment names that are titled according to the week or unnamed entirely. In order to provide clarity, instructors should be mindful of the file name when uploading content to Carmen. For example, instead of naming a file "Week 1," state what the content of the file is and put it in the Week 1 module.
#9  Use Open Education Resources (OER) when feasible.

Students often pay hundreds of dollars every semester to acquire necessary learning resources for coursework. This reduces educational accessibility and places limitations on students with lesser financial resources. Instead of using costly learning materials, instructors should make a reasonable effort to provide affordable, open access learning resources. Examples of open access resources include links to lectures on YouTube and library resources.
#10  Leverage your resources.

Ohio State provides instructors with a wide variety of resources to supplement their courses. For additional information regarding instructional reform and proper usage of Carmen, please consult the below university resources.
In Practice
How can you follow these guidelines to make your course more student-friendly? We've compiled the information you need for each Common Sense tip.
Upload course syllabus to the Syllabus tab and provide it as a downloadable file.
The syllabus is a critical document for students. It helps them manage the time they devote to your course alongside their other classes (not to mention demands outside of school). It is surprising, then, that many instructors still provide only a paper syllabus. Or a syllabus may be uploaded to Carmen but is stored in the Files menu or buried in a module. A paper syllabus cannot capture changes during the term, and it is frustrating to re-upload files every time you make an edit.

Ensure your syllabus is immediately and obviously available by posting it on the Syllabus page in Carmen. Students will know where to find it, and it's easy to make changes. Additionally, due dates will automatically populate to your syllabus when you add assignments in Carmen.
Download and use OTDI's syllabus template. 
Upload assignments to the Assignments tab with instructions and clear due dates.
Your students may be juggling three or four courses in addition to yours. When assignments are correctly entered, the Carmen Calendar enables them to view upcoming tasks and deadlines for multiple courses at once and set up notifications — from a weekly overview of assignments to text message alerts for due dates. They can then plan and prioritize all of their upcoming coursework.

Any assignment you create and publish in Assignments will populate in the Syllabus and Grades features as well. If you're hesitant to post due dates in case they change, keep in mind it's easy to adjust them via the assignment settings or by dragging and dropping in the calendar. A changed due date will update across all Carmen features, and students will receive a notification of the change. 

Find guidance on entering assignments and due dates in Carmen or view this video.
Enter grades into the Grades tab when grading is complete.
Entering grades in Carmen allows students to view, monitor, and reflect upon their progress throughout the term. Without access to their grades, they are powerless to redirect their performance when needed. Entering grades in a timely manner shows that you are invested in student learning and that you expect students to be invested in their learning as well.
Learn about entering and posting grades in Carmen.
Use a consistent mode of communication and mention it in class.
It's best to communicate using the options within Carmen rather than external email. Communication options in Carmen include Announcements and Inbox (a messaging system). The Announcements page is for posting course news and updates, while Inbox is like sending email from your course.
State the communication method(s) you will use on the first day of class and stick to it. Also, instruct students to check their notification preferences. Announcements have high visibility in the course itself, but notifications must be enabled for students to know when they are posted. Both notifications and messages that are sent to students' email addresses can be filtered into spam or junk folders. Students need to be aware of how you plan to communicate with them in order to monitor and fix any potential issues on their end.
Learn about announcements and messages in Carmen, or view this video.
Organize course materials into modules according to content matter.
Using Modules in Carmen to house your content provides a clear organization and structure for students. The way you sequence your modules can help students visualize the "big picture" of your course, show relationships between topics, and create a logical flow. This reduces the cognitive load on students, as they don't have to spend time linking disconnected information together in order to understand and process it (Ambrose, 2010).

What story does your course tell? Think about how students progress through the term: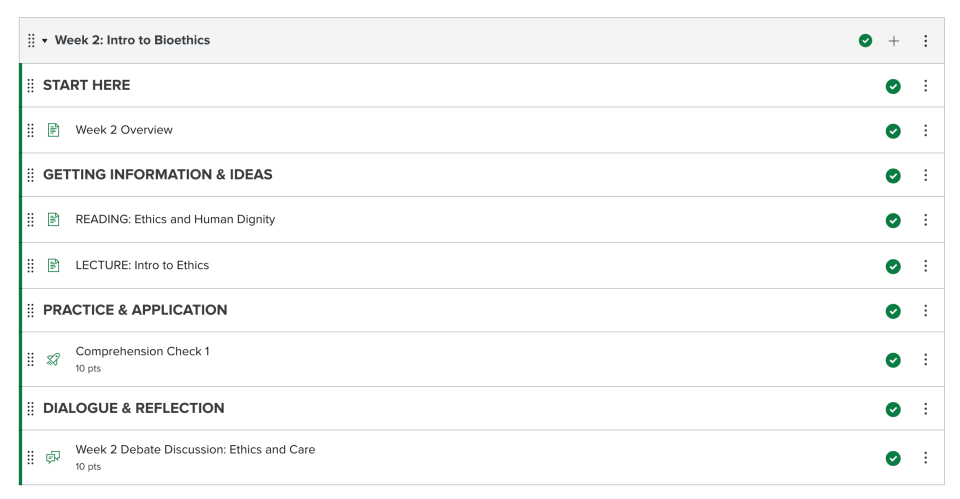 Do you have goals, benchmarks, or expectations for each week? Organize all your content into weekly modules to help students stay on track throughout the term.

Is your course based around key themes? Perhaps you present various theories or approaches within your discipline or proceed chronologically through historical eras. Create a module for each distinct unit of content. For example, Module 1: ___, Module 2: ___, Module 3: ___, and so on.

Do you have a project-based course centered on student work? You might create a module for each project or each step in one final project.

All material and activities for a module—such as assignments, files and discussions—should be housed within that module. Otherwise, students can get confused or miss content.
When in doubt, reset and think from the student perspective. Use Student View in Carmen to preview how students will see your course. Ask a student, colleague, or friend if your organization makes sense to them before you develop the content.

Explore instructions for building your modules or view this video.
Remove unused sidebar tabs.
Students  need to know what to do, when to do it, and  where to find it. Make your course navigation menu in Carmen clear and streamlined. Unused course navigation links can lead to a less than student-friendly experience.

Changing your course navigation menu is simple. Remove any links students won't access. Features you're not using, such as Discussions, Collaborations, or Conferences, should not display for them. If you are not using Files and Pages, remove those links, too; as noted above, it is best to organize content using Modules.

Check out this brief video on customizing course navigation to remove unused course navigation links.
Organize homepage with instructor contact information.
Make the most of your Carmen course homepage to set a welcoming tone, connect with students, and provide key information to help them succeed. In addition to your contact information, you can highlight office hours, course goals, or important assignments.
Express your personality and voice so that students feel comfortable doing the same.  Try using video or audio to introduce yourself and share your excitement about the course. The one-button recording tool in Carmen is a quick and easy way to share information and communicate; continue this approach throughout the course for announcements, discussions and assignment feedback. 

Explore homepage templates in the Canvas Community or check out homepages in the example course(s) below.
Utilize clear and consistent naming conventions for assignments and files.
Establish clear naming conventions and use them throughout your entire course. Unrecognizable abbreviations are baffling; type words out completely and model the clarity you want students to use when uploading their work. For example, instead of "Ess2prmpt," type, "Critical Analysis Essay #2 Prompt."
Use Open Educational Resources (OER) when feasible.
Did you know that the price of college textbooks increased over 1000% between 1977 and 2015? The increasing costs well outpace the overall rate of inflation in the United States, making pricey textbooks a barrier to education for many.
Luckily there are a variety of ways you can use  Open Educational Resources (OER)  and free library materials in your Carmen course.
Learn more about Customizing Your Course with Open Educational Resources or explore A Simple Guide to Creative Commons.
Leverage your resources.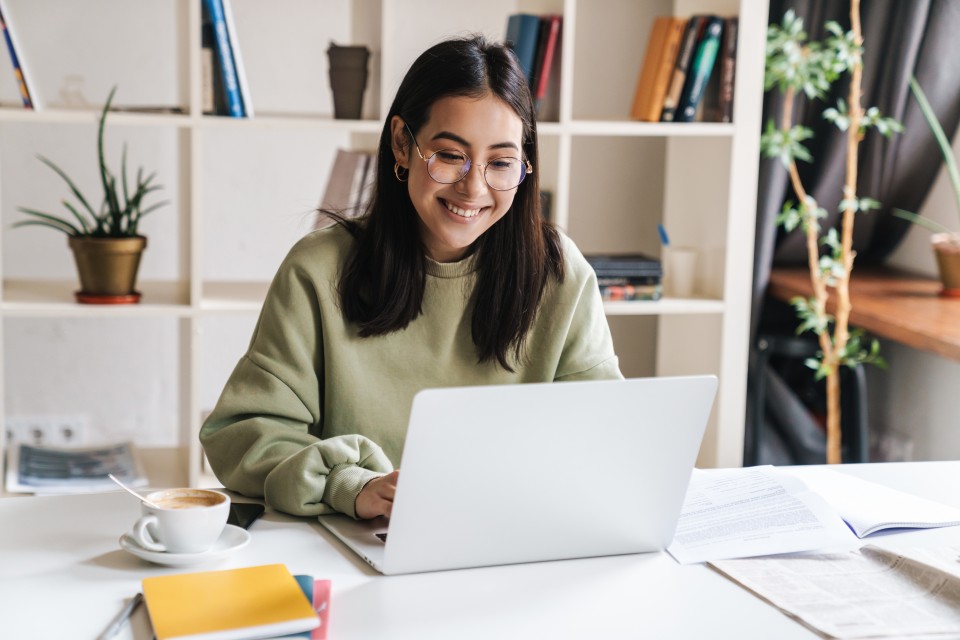 EDUCAUSE research on learning management systems shows that higher ed instructors widely use basic features for course "administration" and content delivery, but rarely the more robust tools that promote interaction, collaboration, and active learning (Pomerantz and Brooks, 2017). Your Carmen course is the foundation of the learning environment you create for—and with—your students. Consistent use of its basic building blocks (Syllabus, Assignments, Grades) greatly improves their experience, but you are not limited to those tools alone.
If you're ready for the next step, a variety of resources for building a rich, student-centered learning environment are at your disposal. These include more advanced features in Carmen as well as outside digital tools. For example, Ohio State supports Top Hat for classroom polling, CarmenZoom for virtual collaboration, and multiple external integrations.
No matter how robust your use of Carmen already is, a number of Ohio State units can support you to improve the student experience of your course. Contact instructional support in your department, or browse our Teaching Support Forms to find the best fit for your needs.
Learn more about Integrating Technology into Your Course.
Examples
OTDI created course template that makes it easy for you to build a course in Carmen.
Summary
Simple changes to your use of Carmen can significantly improve your students' experience. When designing and delivering your next course, remember the following: 
Post your syllabus, assignments, and grades to help students own their learning.  

Set up a clear structure and simple, student-friendly navigation. This means using modules, removing unused sidebar tabs, and using consistent naming conventions for files and materials. 

Provide your contact information on the home page and announce a consistent mode of communication to use throughout the course. 

When possible, integrate open education resources and leverage university technologies and support to enrich your course. 
References
Ambrose, S. A. (Eds.). (2010). How learning works: Seven research-based principles for smart teaching. San Francisco, CA: Jossey-Bass. 
Conn, O. (2019). Ohio State Student Leaders and Faculty Push for CarmenCanvas Literacy. The Lantern. Retrieved from https://www.thelantern.com/2019/09/ohio-state-student-leaders-and-faculty-push-for-carmencanvas-literacy/ 
Miller, M.D. (2014). Minds online: Teaching effectively with technology. Cambridge, MA: Harvard University Press. https://doi.org/10.4159/harvard.9780674735996
Pomerantz, J., & Brooks, D.C. (2017). ECAR Study of Faculty and Information Technology, 2017. Louisville, CO: ECAR.