Ohio State faculty, staff, and students may activate multiple professional sites on U.OSU. Each site provides a URL of https://u.osu.edu/[uniquename] and 10GB of space for your content.
Access U.OSU for the first time
If this is your first time using U.OSU, you can begin by clicking Sign Up from the menu on the home page.
Image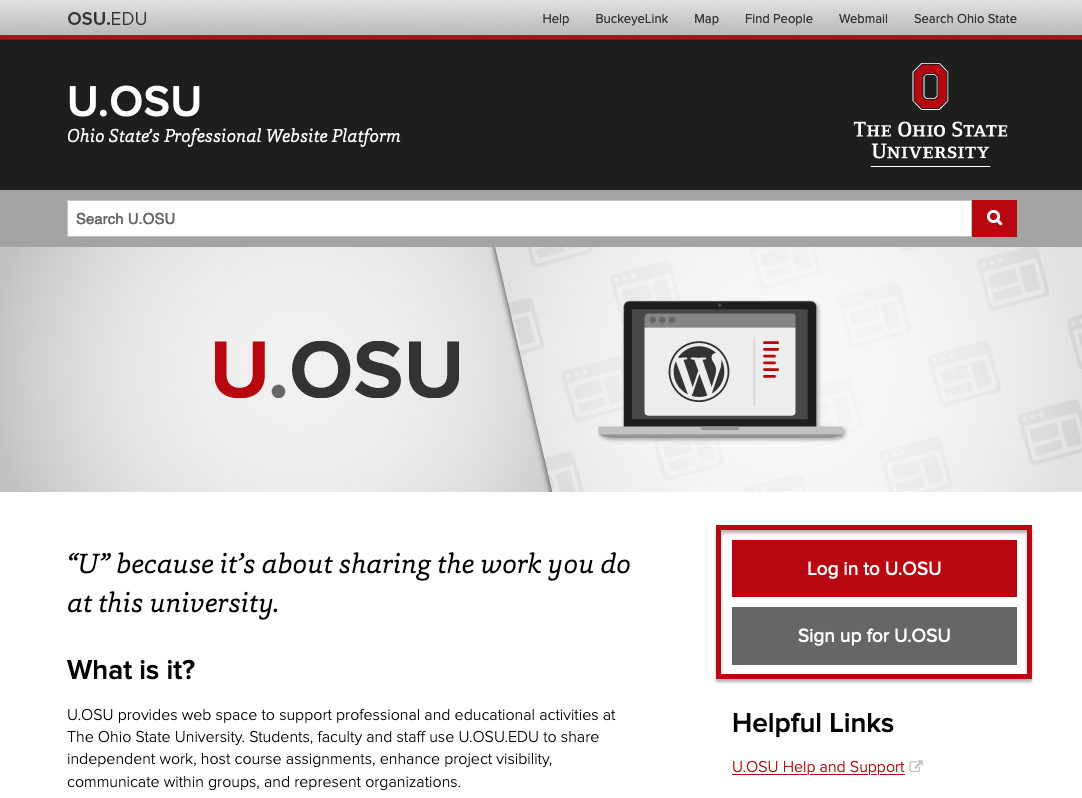 The Terms & Conditions page will appear the first time you log into the site. If you agree to these terms, click Accept.
At the Login page, type your Ohio State username and password, then click Login.
See the Navigating U.OSU guide to familiarize yourself with the U.OSU dashboard and admin menus.
Creating sites for group/ course, departmental or personal use
Users can create personal sites, group or course sites, and departmental sites. Personal sites might be used to create a portfolio or discuss topics of interest. Departmental sites might include information about faculty, events and more. For each type of site, there might be multiple administrators and other roles.
Creating group or course sites allow you to share access and responsibility for your site with colleagues or students. Group sites are particularly useful for labs, projects, student organizations, and courses. Using a separate site for groups or courses allows each person to keep their personal space - and LastName.# url - for their own purposes. In particular, we encourage instructors to use these strategies for courses instead of having the students use their personal sites for assignments.
There are a couple of strategies you may want to keep in mind if you plan to use course sites for multiple semesters.
You can reuse one site (e.g., Astronomy 1001) multiple times. Simply delete all posts and comments at the end of the semester. If you plan to do so, give your site a general name (e.g., u.osu.edu/astronomy1001yourlastname).
You can create a new site each semester. Since you cannot reuse the same site name more than once, name your site with the corresponding semester, course and section information if applicable (e.g., sp14astronomy100102).
See the Creating a Site guide for more information about creating sites.
Add users
Before you can add users to your site, your colleagues or students first need to log in at u.osu.edu to activate their accounts. This will also activate their own personal U.OSU site.
There are five roles from which you can choose to add users to your site: administrator, editor, author, contributor and subscriber.
See the Managing Users & Roles in U.OSU guide for more information.
Set privacy and comment settings
There is a spectrum of privacy settings from which to choose, ranging from settings that limit search engine indexing of your site to settings that limit visitor access. Choose the appropriate setting for your site. This consideration is especially pertinent for course sites. See the Privacy Settings guide for more information.
Comments can be set site-wide or on individual posts and pages. See the Turning Comments On or Off guide for more information.
Customize your site
There are a variety of ways to customize your site. See the following guides to get started:
Add content
Content can be added to the site in the form of Posts or Pages. See the Posts versus Pages guide for information and example use cases for both content types.
If you need to import content from an existing site, see the Importing and Exporting Your Existing Site guide for details.