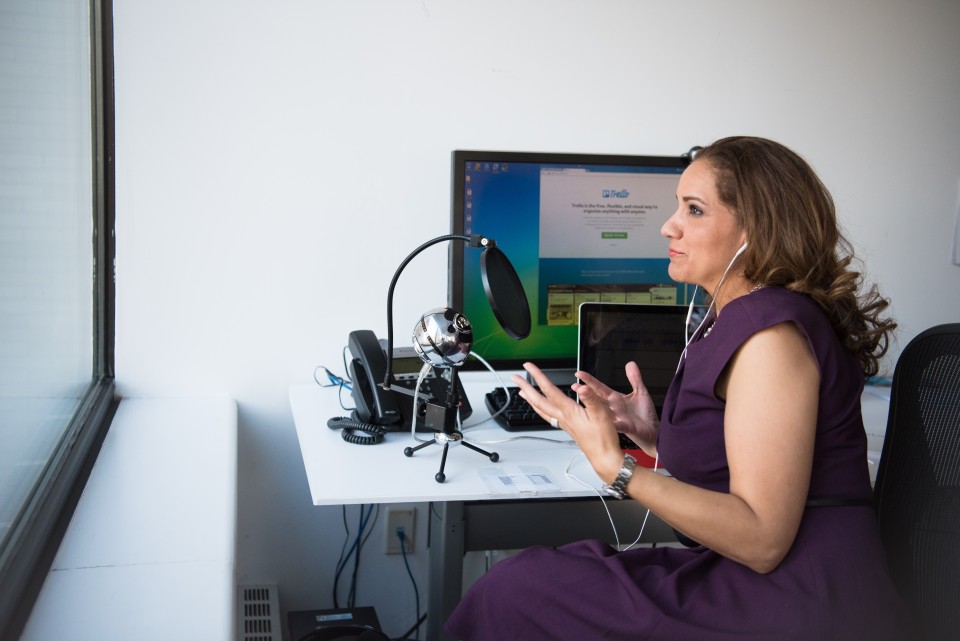 With the right technology and approach, creating engaging lecture videos can be a stress-free and rewarding process. The Ohio State University provides several recommended tools and processes for recording and producing videos as well as additional resources for educators interested in further exploration. 
Below, we investigate these options and the basic steps for creating effective lecture videos from start to finish, including preparation, recording, trimming, captioning, and sharing. Discover how to personalize your video lectures and practice effective communication techniques when recording them.
Types of lecture videos 
Lecture videos can be categorized into three basic types, organized below from simplest to most complicated. Consider which of the following type of lecture video best suits your students' needs and what constraints might impact the type of video you choose to produce. 
Slideshow with audio 

Image

This option combines audio and video channels of communication to enhance student engagement and learning. It has the lowest barrier to entry, as the university provides Microsoft365 as well as technology for screen recording. You may already have presentation slides you've used in the past, so this avenue primarily involves capturing a screen recording of your slides as you verbally present the information.  
Slideshow with instructor video 

Image

This option incorporates a video recording of you alongside the screen recording of your slides. Your visual presence adds a personal touch to the lecture, enhancing online instructor presence and increasing student engagement. Students also benefit from seeing your facial expressions and gestures as you deliver the content. 
Multimedia lecture or presentation 

Image

This engaging type of video involves a higher level of planning and preparation, but offers numerous benefits to your students. Well-produced demonstrations and visual representations can increase student understanding of important or difficult-to-understand concepts. Students also enjoy learning opportunities that diverge from the typical format, which can increase their investment in course content. 

Multimedia videos enable you to provide: 

Demonstrations 
Illustrations 
Dynamic graphic information 
Animations

Putting the extra time and effort into developing media-rich presentations can be the highlight of a course for both you and your students—something they will remember long after taking your class. 

Advanced technology and equipment, such as lightboards or virtual whiteboards, can be used to develop multimedia videos. Ohio State provides access to lightboards and recording studios at the Denney Digital Union.

Learn more about virtual whiteboarding tools: 
Video production tools 
There is no one tool or process for capturing lecture videos; your options are virtually limitless. But below are three options for recording lecture videos that many instructors find useful and attainable. 
Record in CarmenZoom 

Most instructors have become very familiar with CarmenZoom, so it's often a first choice for recording easy lecture videos. Simply start a meeting with yourself and select Record.

There are numerous ways to approach your Zoom video lectures. 

Direct address: If you wish to record a direct first-person address to your students, select Record from the bottom toolbar and record yourself speaking directly to students. 

Slideshow lectures: If you wish to record narration with a slideshow lecture, select Share Screen.  

Whiteboard lectures: If you wish to record a Zoom whiteboard lecture,  from the bottom toolbar select Share Screen and click Whiteboard.  

However you approach your lecture in Zoom, you will need to select a recording option by clicking the More drop-down list of options.  We recommend the Record to the Cloud option. This option allows you to record and store your lecture directly into the Zoom Cloud and automatically transcribe cloud recordings. The recording can then be downloaded, uploaded to Mediasite for long-term storage, and shared with your students. Cloud recordings are automatically deleted after 120  days.  

Learn more about recording lectures in CarmenZoom.
Record in PowerPoint

Lecture videos can be recorded in PowerPoint, either with or without an accompanying video of you delivering the lecture. This method is the lowest barrier to entry, and it offers a surprising number of options. You can record your entire slide deck in one go or record each slide individually. Once exported to an mp4 file, you'll have a polished lecture recording. Because Carmen has a limited storage capacity, we recommend hosting your video on a streaming platform such as Mediasite.

Editing Tips

Don't like where your video appears on one slide? No problem. After recording, you can move your video to any part of the slide. You can also resize it if needed. 

Love the exported video—except for one slide? No problem. Even if you record the entire presentation in one go, you can delete the recording on an individual slide and re-record it. Export your slideshow (again), and the new mp4 file will now reflect the newly recorded slide when it comes up in your presentation. Don't forget to re-upload to your streaming hosting service, such as Mediasite.   

Learn more about using PowerPoint to record lecture videos.
Record in Mediasite Mosaic

Mediasite Mosaic is a simple tool that allows you to record your desktop's display, webcam, and microphone to create engaging lecture content. You can easily upload lectures to Mediasite manually or create an auto-upload that will seamlessly link any recordings to your Mediasite account. Once uploaded to Mediasite, you can trim your recordings and utilize the robust backend features of Mediasite including analytics, polls and Q&A, and quizzes. 

Learn more about Mediasite Mosaic. 
Video production process
Producing a lecture video involves several steps. Preparation tasks typically account for about half of the total production time. The actual recording takes about one-third of the total time. The remainder involves post-production tasks such as tweaking the recorded video, adding captions, uploading it, and sharing it with your students.  
Recording preparation 

Preparation is essential to creating quality lecture videos. The following recommendations will help ensure you are equipped to record your lecture.  

Make an outline

First and foremost, you need a quality outline, script, or storyboard for each lecture recording. Keep your learning outcomes at the forefront as you decide what you will and won't include in your video. Ideally, a video is short (6-9 minutes) and focused on a specific learning outcome. Research shows that as videos get longer than six minutes, student engagement drops off significantly (Brame, 2015). Breaking down longer lectures into smaller chunks is a good strategy to retain students' interest as they progress through your course content. A brief video can be followed with knowledge checks, reflection questions, discussion, or other activities that engage students and monitor their understanding. You can also embed these engagement opportunities within your video, as explained below. 

Create your slides

Preparing engaging slides, and ensuring they are accessible, is a crucial step in prerecording.  

Make your slides: 

Simple and concise. Don't overcrowd slides with text. Use keywords or phrases, expanding on each item verbally in your lecture. Organize ideas using bulleted or numbered lists. 

Media-rich. As they say, sometimes a picture is worth a thousand words. Incorporate a variety of media to convey your message. Including relevant photos, graphs and charts, audio and video will add interest and variety and make your video more engaging for students to watch. 

Accessible to all learners. Use a design template that incorporates white space and has a high-contrast background and font color. Always use the built-in slide layouts in the template for titles and content; this ensures that screen readers will read each slide's elements in a logical order.  

Test your equipment

You might be surprised to learn that expensive equipment does not necessarily translate into a quality lecture video. More important is the placement of the microphone and cameras, and, if the lecture will include a video of you, the lighting. Test your setup before you record an entire lecture.

Make sure you're recording quality sound without feedback or audio distractions.  

Make sure your camera is close enough to record your facial expressions. It's also important to look at what appears in the background of your video. If you have distractions or personal items you don't want to be captured, reposition your camera or use a background filter. 

Lastly, make sure your lighting doesn't cast harsh shadows on your face; it should be neither too dark nor too bright. Minor lighting adjustments can significantly impact the effectiveness of your video.  
Recording tips 

Keep in mind the tips below to make your lecture videos clear and engaging. 

Keep it short

As noted above, best practices suggest that lecture videos should be no more than 6-9 minutes in length and focused on a manageable amount of content to reduce cognitive overload (Mayer & Moreno, 2003). If you have "nice to know" content or additional examples you'd like to share that isn't integral to your learning outcome(s), consider including this information in a supplemental reading or video.

Speak normally and provide a clear agenda

Begin each lecture video by providing an explicit agenda for your students, noting the importance of the topic as well as the video's scope and organization. Clearly call out your introduction, transitions, and conclusion. Throughout the recording, use your normal speaking pace as if students are actually present. Research shows that it's important to vary your vocal and facial expressions and maintain eye contact more than you typically might in order to heighten student engagement throughout the lecture video (Guo et al., 2014). 

Create guided or embedded questions

Online learners do not have the benefit of asking questions in real-time when they don't understand a concept. You cannot see your students' cues for when they are "getting it" and when they are not. The only way to know this is to add in comprehension or knowledge checks at the end of a video or module. Comprehension checks can include:  

Low-stakes quiz questions 
Answering questions about a case or scenario 
Completing a worksheet on a specific topic 

Consider building reflection questions or example quiz questions into your slide deck so students can test themselves on their own comprehension during the video.  
Recording post-production 

Once you have recorded your lecture, there are several post-production tasks to complete before sharing your lecture with students.  

Caption your video

In compliance with the Ohio State Digital Accessibility Policy and Minimum Web Accessibility Standards, all lecture videos must provide captioning for those with an auditory disability. Captions will benefit all of your students, including those for whom English is a second language, those new to your discipline and its terminology, and those who may simply be watching your lecture in a crowded or loud environment.

CarmenZoom

Zoom automatically creates transcripts for your cloud recordings. Transcriptions are downloadable in .vtt format and can create closed captions when uploaded to Mediasite along with your Zoom recording.  ​Learn more about uploading your CarmenZoom recording and transcriptions to Mediasite.

PowerPoint

PowerPoint does not provide closed captioning of recorded videos. One method of adding closed captioning is to upload your video to YouTube, which will add closed captioning to your video within 24 hours. Learn more about adding captions using YouTube.  

Mediasite

If you host your video on Mediasite, Ohio State's supported option for storing and sharing lecture videos, you can upload caption files to where the same video is stored on Mediasite. Mediasite is ad-free and offers additional analytic and interactivity options for your lecture videos. Learn more about captioning your Mediasite presentation.  

Trim or edit your video

Once your lecture video is recorded, you might need to trim the beginning or end of the recording, as this is typically an area where "empty space" exists. Do this in your recording software prior to uploading your video, or it can be accomplished after being uploaded to Mediasite.

Learn more about trimming video using the following tools: 
Store and share your video

Large files, especially videos, take up a significant amount of room in Carmen. They can also be problematic for students to access if they are not hosted on a service intended for media delivery. To avoid maxing out your Carmen file space, store your videos in Mediasite.  

Once you've uploaded your video to Mediasite and added closed captioning, you can post the video to your course in Carmen. There are a few ways to share your Mediasite recordings within Carmen: 

Embed a presentation using the Mediasite integration  
Embed a catalog using the Mediasite integration 
Create a link to a Mediasite presentation 

Learn more about sharing Mediasite videos in Carmen.  
Workshop recording